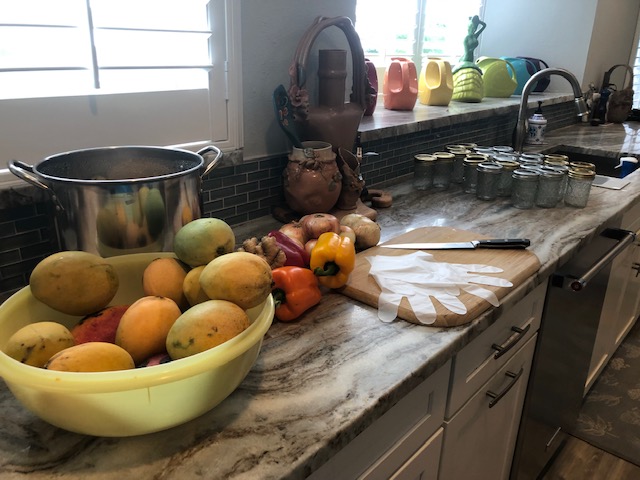 People have been growing and eating mangoes for over 5000 years! Long before the Great Wall or the Pyramids were built, we have been enjoying this sweet, delicious fruit.
If you are lucky enough to live on Sanibel or Captiva at this time of year, you know we have an abundant crop of mangoes on the islands. You may have your own tree or have generous neighbors, like I do, who supply you with enough of this amazing fruit to make mango chutney or mango jam. Loaded with fresh ginger, garlic, golden raisins, sweet red peppers and onions, my "Sanibel Special" mango chutney will be on the dinner menu for months!
But beware! Mangoes are edible cousins of poison ivy plants! If you are allergic to poison ivy, be very careful when handling mangoes! Mango skin, bark and leaves contain the same toxic substance, urushiol, as in poison ivy. Urushiol is absorbed quickly into the skin, with about 50% of the compound absorbed within the first 10 minutes of contact. Washing hands quickly is a must! Some of us even wear gloves when handling mangoes. I knew I was allergic to poison ivy but had no idea that mangoes…. pretty, sweet mangoes!….secreted the same topical toxin! I learned this the hard way! Now, I wear long sleeves and disposable gloves when pealing the fruit and am good to go!! Fortunately, the fruit itself is safe to eat.
One more cooking tip…. when cooking mangoes, especially if the recipe calls to boil them, use a good, sturdy, noncorrosive pot! And keep stirring! The high sugar content in the fruit and in many of the chutney ingredients cause it to burn quickly. Not only can you ruin your pot, but the chutney will also have a slight burned taste to it as well. But even then, its good. Just tell your friends it's a smokey style!! Come visit Sanibel and Captiva! You know our shells are special! And now you know our mangoes are too!
Pearl the Blogger