Think about it for a minute. What do you love to do? If you answered walking on the beach, enjoying the sound of the waves, wiggling your toes in the sand, then I'm with you! And I had just that morning yesterday. I started my day at Beach Access #5. There were only two other people taking their morning constitutional so the gentle waves were all I could hear. I went to the shoreline and started to walk just where the water deposits the shells. Oh, those shells! God's own craft store! I tell myself that I HAVE ENOUGH SHELLS! I didn't even bring a net to carry them because I HAVE ENOUGH SHELLS! But they are all so pretty! I can't resist picking them up and stuffing my pockets because, well, just because! They are all different and they will look so nice in my collection. I even like the broken shells, particularly the broken fighting conch. Perhaps its my overactive imagination but I think they look like flowers. Yes, I have an entire pot of broken shells/ flowers just outside my door at home. I'd say I was a candidate for an intervention but there are a lot worse habits! The walking and bending are good for me, right? Or to paraphrase the Duchess of Windsor, you can never be too rich, too thin or have too many shells!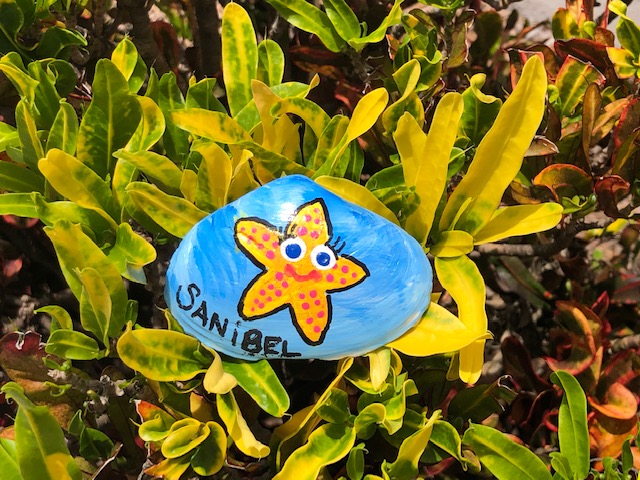 But wait! There's more! I did finally manage to look up from the shells and there it was! A 6-foot-long dark shadow of a fish just offshore! I'm not kidding. It wasn't ten feet away. And that beautiful dolphin surfaced to show off its pretty fin and graceful swimming skills. Seeing a dolphin is good luck of course. It means you will return! I'm so glad because, time had flown, and I did need to leave my happy place. But not before discovering this lovely lagniappe! Thank you to the talented and generous artist, "SBM" of Sanibel Shells for leaving this treat at Beach Access #5! There is a little girl in Chesterland, Ohio who will treasure it!
Like me, you may fall in love with Sanibel on vacation and want to stay here forever. The friendly and experienced realtors at VIP Realty, 1560 Periwinkle Way, are here every day to help you make your dreams come true! Stop and visit anytime!
#VIPRealtygroupSanibel #Sanibelvacationrentals #Sanibelshells #Pearltheblogger
Pearl the Blogger