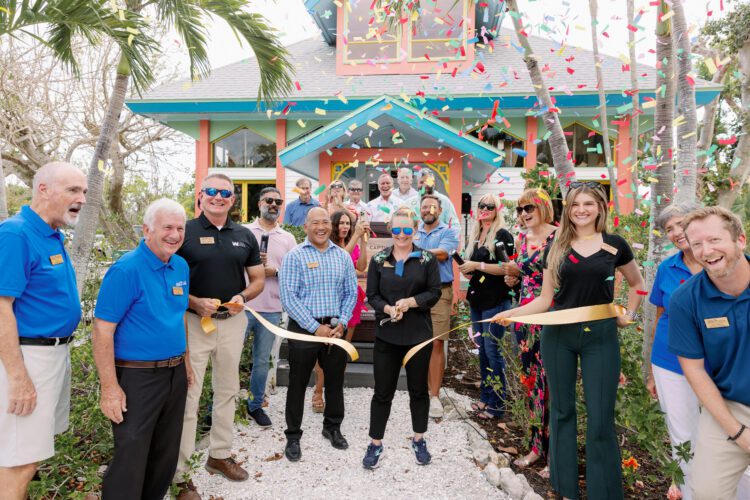 SANCAP CHAMBER – The community celebrates the reopening of the SanCap Chamber's Francis P. Bailey Jr. Visitor Center on Sanibel during a ribbon-cutting on June 6.
During the past months since Hurricane Ian hit in September, the SanCap Chamber has strung yellow ribbon across about 50 island businesses for owners and staff to snip in celebration of their triumph over storm destruction. On June 6, chamber Board Chair Calli Johnson did the snipping as an estimated 125 chamber members and local residents gathered to cheer the reopening of the Francis P. Bailey Jr. Visitor Center on Sanibel.
"It's hard to believe that on Oct. 5, the first day we were allowed back on the island after Ian, my board members and I came back on island by boat," chamber President and Chief Executive Office John Lai said. "Eight months seems like forever, and it seems like yesterday all at the same time. If you would have told me that we would be here eight months from that day for this occasion, I would have wanted to sip whatever it was you were drinking."
Nearly 4 feet of water destroyed the digital displays and interactive guides, furnishings, and interior structure in the downstairs center. Staff renovated the space with a little bit of the old and a lot of new.
"You'll find the same bright colors, same friendly faces and same new bright technology, but new improvements as well," he said. "We reconfigured the front desk area so that there is a flow of foot traffic and restored the all-popular restrooms. We've added comfortable seating areas so both our visitors and our residents can find respite here with family and friends."
Johnson also spoke, thanking the city of Sanibel and council members for their help and introducing District 80 state Rep. Adam Botana, who spoke on behalf of the state's $350 million allocation to local recovery efforts.
Sanibel Mayor Richard Johnson made the surprise announcement that the Lighthouse Beach Park would reopen on June 16 to resounding applause.
"This is an emotional occasion," he said of the ribbon-cutting. "This signifies another step in recovery. This signifies the return to our visitor-based economy. It signifies we are open for business."
Lai invited attendees to enjoy food and drinks provided by the Blue Giraffe following the ribbon-cutting and confetti cannon hurrah, where a mood of near-giddy joy, gratitude and optimism prevailed.
The Francis P. Bailey Jr. Visitor Center is at 1159 Causeway Road, Sanibel.
The Islander – By SANCAP CHAMBER – | Jun 9, 2023